Resource Geosciences
Resource Geosciences Research at GERG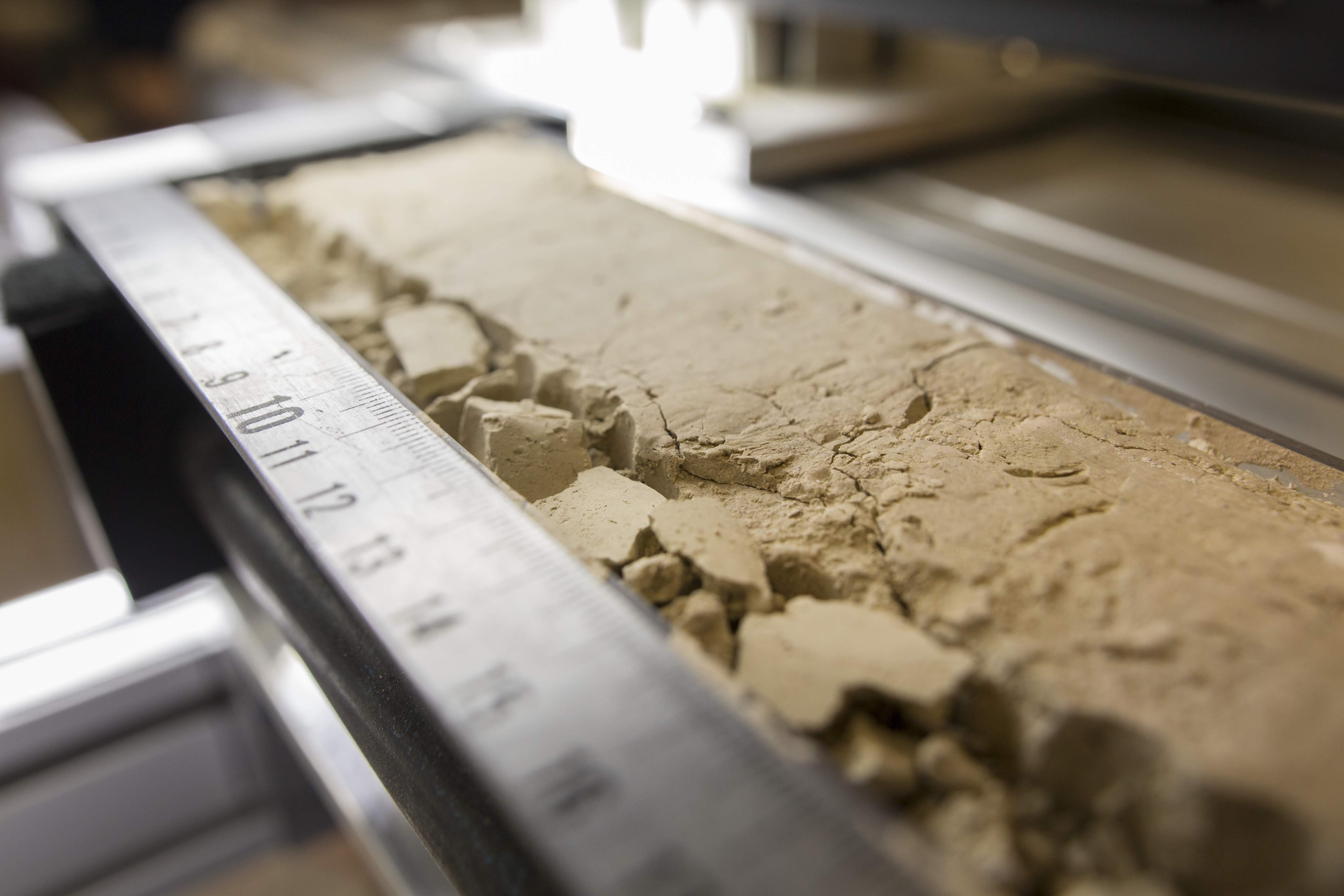 Overview
Scientists in the Resource Geosciences group conduct specialized hydrocarbon research for energy companies in onshore and offshore regions. The group also studies unconventional energy sources such as deep-sea gas hydrates, which hold more energy than all conventional reserves of fossil fuels worldwide.
GERG conducts its research in coastal, near-shore, and ultra-deep waters in the Gulf of Mexico and other areas such as Africa, South America, and Europe.
Resource Geosciences' vision is to respond and adapt to the changing energy landscape to meet the energy needs of today and in the future. The old paradigm predicting a permanent decline in domestic production of gas and oil in the near future has shifted to the realistic prospect of energy independence within the next five to ten years. Clean-burning methane from shale is envisioned as one potential energy source to provide fuel for power generation and transportation as well as feedstock for our chemical industry. Our geoscientists will continue to serve Texas and the nation in achieving its realistic goal of complete energy independence.
Research
Petroleum Geochemistry
Hunt (1979) defines petroleum geochemistry as "the application of chemical principles to the origin, migration, accumulation and alteration of petroleum, and the use of this knowledge in exploration and recovery of oil, gas and related bitumens." At GERG, petroleum geochemistry research focuses on:
Offshore Coring Studies - research related to oil and gas seeps in the Gulf of Mexico and other offshore basins globally
Regional Studies - basinal studies of oil and source rock occurrences with the objective of better understanding petroleum systems
Additional research topics include thematic studies of oils and source rock hydrocarbon geochemistry and geochemical studies of seafloor hydrates. Because petroleum geochemistry is integral to the search for oil and gas, much of GERG's research is sponsored by the energy industry.
Offshore Coring Studies
The basic justification for the use of oil and gas seeps in offshore petroleum prospecting is that hydrocarbons from deep sedimentary sequences can migrate, either directly from source beds or from reservoirs, to the seafloor.
Analysis of near-surface sediments in a generative basin should therefore be capable of detecting the surface expression of the underlying hydrocarbons.
Geochemical analysis of seafloor sediments is a proven approach to surface detection of thermogenic hydrocarbons. Sediment cores retrieved using a ship-based piston core device are analyzed in the laboratory to detect hydrocarbons derived from seeping oil and gas. With proper core placement, "live oil," shown in the slabbed core, can be recovered. "Live oil" is a weathered equivalent of a reservoir sample that can be used to evaluate hydrocarbon origin and thermal history. It's like getting a sample of the oil in the reservoir without drilling the well.
With support from the petroleum industry, GERG has been studying submarine seepage in sedimentary basins throughout the world for over 15 years. In addition to contributing to a fundamental understanding of fluid flow in the subsurface, the results of these studies have been used by industry to help reduce the risk of offshore hydrocarbon exploration.
Gulf of Mexico Consortium Studies
GERG piston coring consortia between 1985 and 1998 encompass the mid- and upper slope of the northern Gulf rim as well as deep-water regions beyond the Sigsbee Escarpment and in Alaminos Canyon and Keathley Canyon.
GERG Consortium Locations Map (PDF)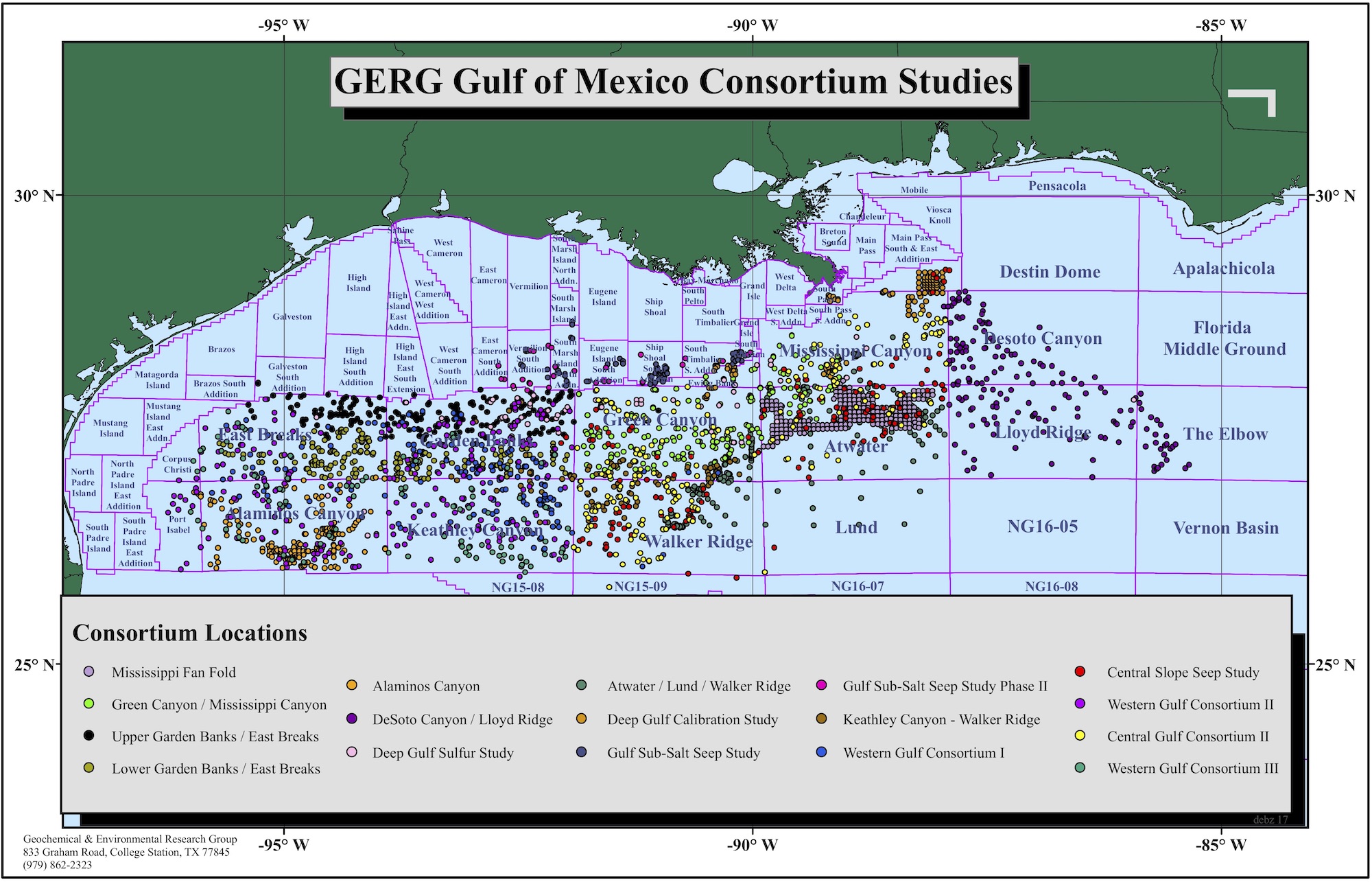 Deep Water Continental Margins
Resource Geosciences has impacted the course of exploration for conventional reserves of oil and gas in the Gulf of Mexico and globally by applying innovative hydrocarbon seep geochemistry.
Large multinational energy companies including Agip Petroleum, BHP Petroleum, BP Exploration, Chevron, Conoco, Devon Energy, Enterprise, ExxonMobil, Kerr McGee, Marathon, Norsk Hydro, Ocean Energy, PanCanadian, Phillips, Shell Offshore, Statoil, Texaco, TotalFinaElf, and Unocal support the applied energy research of Resource Geosciences. 
Resource Geosciences mainly focuses on the Gulf of Mexico. In 1999, energy production from the deep water continental slope for the first time exceeded that of the Gulf shelf, marking an historical turning point in our nation's energy history. The deep water Gulf slope is thought to offer the single greatest opportunity to increase domestic energy reserves.
The search for gas and oil seeps prior to Department of the Interior lease sales helped define the productivity of the central and western Gulf slope before drilling. Applied research programs include: the Green Canyon-Mississippi Canyon, Upper Garden Banks-Lower Garden Banks, Alaminos Canyon, Atwater-Lund-Walker Ridge, Keathley Canyon-Walker Ridge, Central Slope Seep Study, Central Gulf Consortium II, and the Western Gulf Consortium Phases I, II, and III.
Resource Geosciences pioneered study of hydrocarbon seeps and vents associated with sub-salt discoveries. We discovered that horizontal salt sheets seep oil and gas along the edges but especially on the crests of salt sheets over known-sub-salt discoveries.
In response to the 2001 lease sale in the eastern Gulf of Mexico, Research Geosciences conducted the DeSoto Canyon Lloyd Ridge Study and the 2000 Central and Eastern Gulf Biomarker and Isotope Study (CEGBIS).
Resource Geosciences' research in offshore western Africa provided the first indication of an active petroleum system in deep water offshore Nigeria and Angola. Moreover, Resource Geosciences carried out a program offshore Namibia and key studies elsewhere offshore western Africa. In addition, Resource Geosciences carried out the first large search for gas and oil seeps offshore Brazil in partnership with Petrobras, the Brazilian national oil company.
Alternative Energy Sources from Deep Water
Resource Geosciences has used its sampling and geochemical techniques to rapidly advance the state of knowledge concerning gas hydrate in the deep waters of the Gulf of Mexico.
As an organization, GERG has an important history of advanced research in gas hydrate for almost two decades.  GERG research scientists made the first discoveries in nature of two major types of oil-related gas hydrate: structure II and structure H gas hydrate.
The Applied Gas Hydrate Research Program (AGHRP) has been the single most effective gas hydrate consortium in the U.S. since its inception in 1999. An integral element of AGHRP is research conducted on gas hydrate as a future energy resource and as a potential hazard to drilling in ultra-deep water.
Hydrate research has been supported through AGHRP by a significant number of energy companies and one federal agency, the former Minerals Management Service. The energy companies include AGIP Petroleum, BP Exploration, Chevron, Conoco, ExxonMobil, Japan Oil, Gas & Metals National Corporation, Korea Institute of Geoscience & Mineral Resources, Oil & Natural Gas Corporation Limited, India, Phillips, Shell, Texaco, TotalFinaElf, and Unocal. Other research support comes from the National Science Foundation and the Department of Energy.
Major research products of AGHRP include the first Gulf-wide G.I.S.-based map of thermogenic and bacterial methane gas hydrate in geologic context, providing important new data on gas hydrate type and distribution to encourage additional research.
In 2001, Resource Geosciences published a new estimate of gas hydrate energy volumes in the Gulf of Mexico based on improved geologic and geochemical insight from AGHRP.
Resource Geosciences further studies gas hydrate in terms of life in extreme environments, suggesting a relationship between gas hydrate and complex chemosynthetic communities.