About GERG
About the Geochemical and Environmental Research Group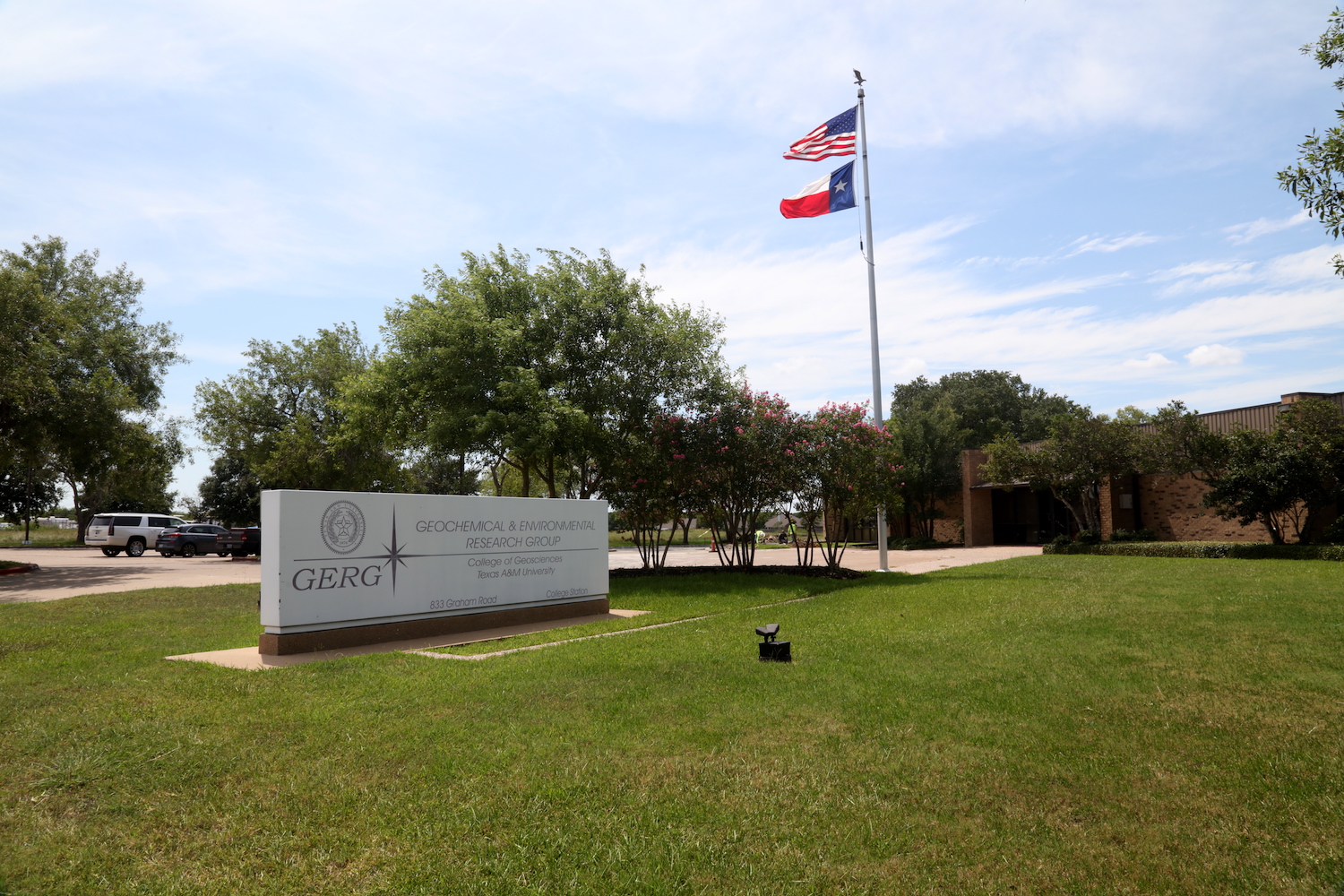 The Geochemical and Environmental Research Group (GERG) is a center of excellence in applied geosciences within the College of Geosciences of Texas A&M University. GERG is predominantly an applied soft-money research center focused on interdisciplinary research. Reflecting the diverse disciplines in the College of Geosciences, GERG's core competencies have traditionally been Environmental Science, Ocean Sciences and Resource Geosciences. Staff and partners include geologists; inorganic and organic geochemists; analytical and contaminant chemists; biological, chemical, geological and physical oceanographers; biologists, ecologists and toxicologists.
Environmental Sciences (ES) section conducts applied research in a wide range of topics related to the health of the Earth's ecosystems. The highly experienced staff is comprised of research scientists, research associates, technicians, graduate students and student workers. ES has a diverse portfolio of research projects. ES strives to better understand the changes occurring across our planet as a consequence of human interactions with the environment.  The group's research monitors the rate of environmental change and predicts future change with the goal of providing guidance in protecting and sustaining the environment for future generations. ES maintains a state-of-the-art laboratory of specialized instrumentation. The ES disseminates information to government and industry stakeholders including the expertise to interpret the results. Cutting edge research is encouraged through continuous improvement of instrumental sophistication, methods, and efficiency. Training and quality are cornerstones of all laboratory operations. Research interests in ES include assessment of the current status and future trends in environmental quality, national and international environmental monitoring programs, management of project data, and the improvement and development of analytical methodologies to meet emerging needs for the detection of environmental contaminants. ES projects assess the sources, sinks, and bioavailability of a variety of important environmental contaminants.
The Environmental Sciences Group (ES) has an international reputation and has been performing high quality trace organic analyses for over 30 years. Funding for ES has averaged $1 million per year over the past 5 years. ES has developed "trace" analytical methodologies to analyze environmental samples for organochlorine pesticides (e.g., DDT), polychlorinated biphenyls (PCBs), planar PCBs, tributyltin (active component of anti-fouling paint), dioxins/furans, organophosphate pesticides, volatile organic compounds (VOCs), photosynthetic pigments, total petroleum hydrocarbons (TPH), polynuclear aromatic hydrocarbons (PAH), PAH bile metabolites, brominated diphenyl ethers (PBDE), trace elements (e.g., lead, mercury, arsenic), dissolved oxygen and nutrients. ES has the sampling equipment and expertise to collect and analyze, water (e.g., rain, seawater, wastewater), air (particulate and gaseous organic compounds), soils, sediments (including cores), tissues (plant and animal), and semi-permeable membrane devices (SPMD).
GERG has been a US Fish and Wildlife (USFWS) contract laboratory since 1987. This is a competitive contract that is re-bid every 5 years and which include performance evaluation samples in order to qualify and annually to continue funding. A variety of sample matrices have been analyzed for this project, including fish and bird eggs. Beginning in 2004 through the present, ES has analyzed hundreds of fish and crab samples for the Texas Department of State Health Services (DSHS) for pesticides, PCBs, dioxins/furans, volatile organic compounds (VOC), semi-volatile organic compounds (SVOC), and trace elements contaminants. The results of this analytical program are used by the State of Texas as the basis for issuance or removal of fish consumption advisories. GERG is also involved with a $14 million 3 year contract with the Gulf of Mexico Consortium as part of the Gulf Integrated Spill Response (GISR). ES is establishing what background concentrations of petroleum are in the Gulf of Mexico.
Currently GERG is part of a $7 million 3 year Gulf of Mexico Consortium as part of the Aggregation and Degradation of Dispersants and Oil by microbial Exopolymers (ADDOMEX). ES has developed an excellent record of quality and performance on a multitude of projects, including a number of large, multi-disciplinary federally-funded projects. The GERG ES team includes scientists and technicians that have conducted a range of national and international environmental programs involving analytical services. A special ability in the analysis of large numbers of environmental samples at competitive cost while maintaining stringent QA/QC requirements is a hallmark of ES's analytical laboratories. ES also specializes in analyzing problematic sample matrices and difficult to determine analytes. ES has provided USFWS Natural Resources Damage Assessment (NRDA) data that has been acceptable in Court, Dr. Wade has served as an expert witness for the US Government and Dr. Knap has been an expert witness for international claims. ES routinely analyses several hundred sediment samples, several hundred tissue samples, and hundreds of water samples per year for a variety of analytes and clients. GERG also provides analysis and data interpretation for a wide variety of large and small industrial, government and academic clients. Some of these include BP; ExxonMobil; Guardline Environmental Limited; TDI Brooks; Battelle; Texas A&M University in College Station, Galveston, and Corpus Christi;  University of Connecticut; Drexel University; University of Alaska Fairbanks, University of Kentucky; University of Hawaii; Qatar University, New York City Audubon, Escambia County Fl.; Texas General Land Office.
ES's extensive long-term experience in contaminant analyses is unsurpassed for U.S. laboratories. ES in not simply a contract laboratory but staffed with active researchers who publish the results of their studies in peer reviewed journals and present them at both national and international scientific meetings. This enables ES to remain current on analytical techniques increasing our value to USFWS and the impact of our research projects.